THE ONLY HAIR TONIC THAT TAKE 6 MONTH TO
MANUFACTURE

The Hair Tonic That Is All Natural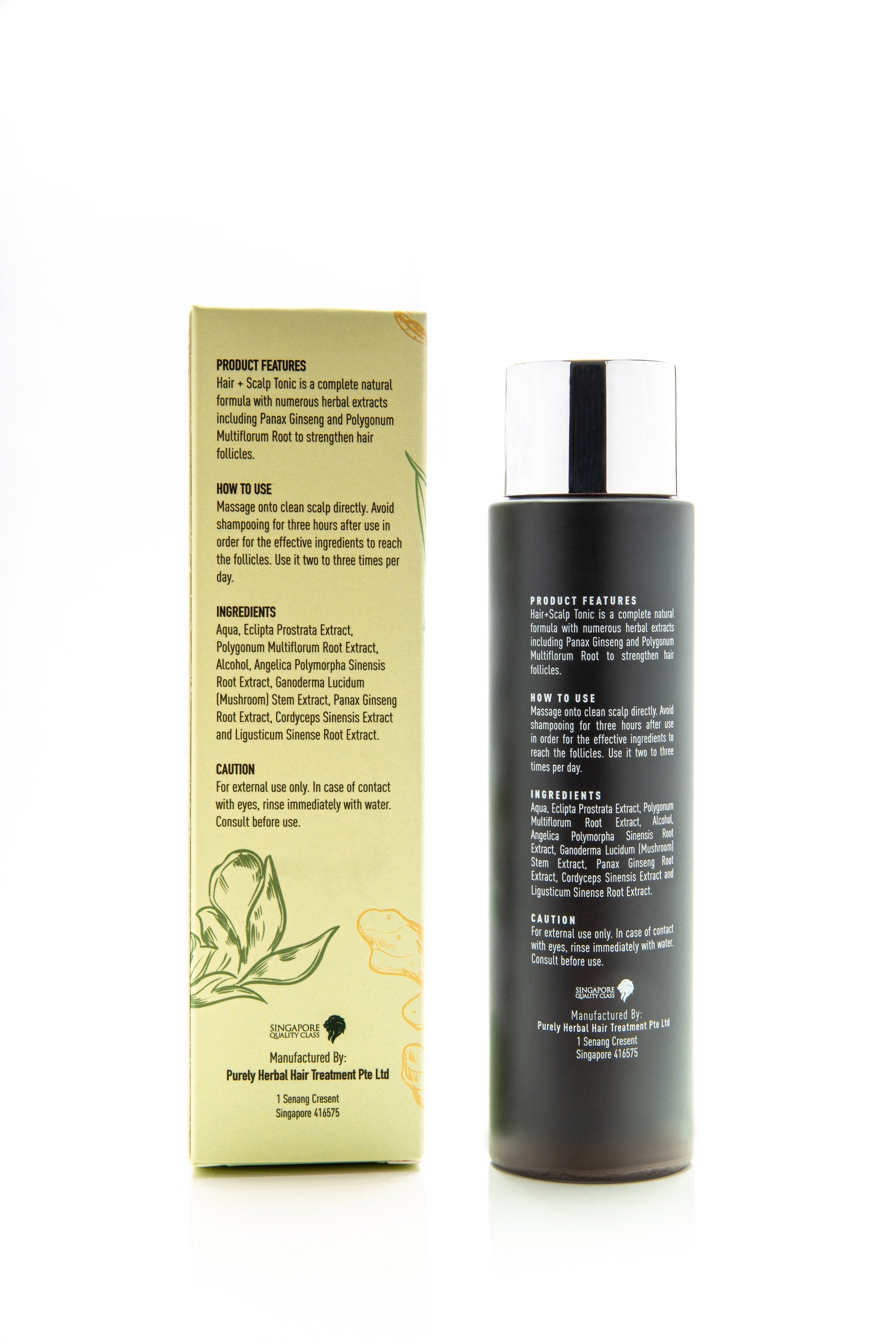 The Answer to HAIR GROWTH:
Two Herbs Hair Tonic
RM195.00 MYR
Tonic formulated to stop hair loss and help hair growth
Containing 13 Extract Ingredient Each RESEARCH and PROVEN To Solve The Hair Loss You Are Facing
Promote Black Hair Growth
Give Nutrients to the Scalp
Definately seen lesser hairfall after using for one month

Shawn
Scalp is less oily and itchy compare to last time

Jen
Can see more baby hair growth after the 2nd bottle!

Cynthia
Selection

Two Herbs Herbal Tonic; a combinaion of 27 chinese & ayurvedic herbs blend each carefully selected for its effectiveness and hand-selected by the Master Trichologist.

From traditional roots including Angelica root, which is renowned for it's healing properties, to ginseng, the most expensive herb in the world, each ingredient is carefully chosen to help you regain your hair and balance the elixir inside your scalp.

Essential to the production process is the blending of herbs individually hand mashed , to ensure the each individual herbs is truly bring out in the process.

The secret of the ingredients balance the scalp and is able to promote hair growth by strengthening the follicles deep into the scalp. For this reason, only a selected number of the herbal wine is being made each batch resulting in a shortage of the herbal wine frequently.

Aging

Each batches are aged for 6 months before they are ready for sale.

The bottles are air tight to prevent contamination and kept in a dark and natural cooling area usually in the basement to ensure the maximum effectiveness of the herbal tonic.




The Final Product
Hair-Friendly Tonic Produced
With The Highest Concentration of Herbs & Liquor In The World
Each Tonic Contain
Highest concentration of alcohol

More then 20 herbs

Concentrated ginger extract
This Herbal Tonic is formulated with 87% high concentration of herbal ingredients such as whole Korean Ginseng, Lingzhi, Dang
Gui Root and Ginger to reduce hair fall & strengthen weak scalp & hair.

*May cause stickness to hair
The founder was in India to research and source for ayurvedic herbs when he saw a group of people arguing and decided to walk over and find out what happened. The two person was fighting over the last bottle of herbal tonic sold by this old high priest.
The founder decided to pay double the price and buy from the two people that were fighting.
He began applying the herbal tonic day and night and noticed the hair drop lesser the next day.
He decided to pay a visit to the old high priest the next day and ask the formula from him.
He told the priest he wanted to bring the formula back, open a shop and help more people with hair loss problem, the priest agree and pass the formula to him on 1 condition.
Never take short cut and compromise the quality of the herbal tonic.
Till to date, more then 10,000 bottles has been sold in Singapore. A testament to the 3000 years old ancient ayurvedic formula.


Herbs We Use That Solve Your Scalp Issue
Two Herbs Hair Tonic Contains Effective Ingredients Clinically Tested To


Relieve Hair Loss Symptoms &
Promote

Healthy Hair Growth

:

Ginseng
Stimulate hair follicles
He Shou Wu
Rejuvenate scalp
Dang Gui
Prolong hair growth phase
Amla
Strengthen the roots
Bringraj
Improve hair strength
Ashwangandha
Improve blood supply
Ginger
Stimulate hair growth
Fenugreek
Boost blood circulation
Lingzhi
Cleanse the scalp
Neem
Stimulates the cells
The "Multipler Effect"
Chinese Herbs
that have all the Highest Herbs Concentration

Exertion of multiplier effects by a combination of herbs Although single herb has efficacy, use of their combination may exert new effect or extend their efficacies. The typical example of this is Kampo medicine (Japan's traditional herbal medicine based on the traditional Chinese medicine) and the prescription to enhance the efficacy of Kampo medicine has been studied since ancient times. The combination of Kampo medicine based on each symptom is infinite (for example, the combination of plants or an addition of medicinal ingredients derived from minerals). Various prescriptions can be invented since multiplier effects of herbs are expected.
All
Natural
No
Chemical

High Success Rate
5 Amazing Benefit Of Two Herbs Herbal Tonic
Containing 13 Extract Ingredient Each RESEARCH and PROVEN To Solve The Hair Loss You Are Facing
Promote Hair Growth

Helps to promote new hair growth by nourishing the hair follicle.

Strengthen Hair Roots

Helps to strengthen the hair by nourishing the scalp .

Control Grey Hair

Contains Arnica Montana, proven to help control and prevention of grey hair

Boost Blood Circulation

Helps to boost blood circulation aiding more hair growth.

Stop Hair Loss

Tonic will help strengthen existing hair giving the scalp the nutrients it need

Who Need Two Herbs Herbal Tonic
Common Hair Problem Working Population


In Their 30s to 40s Tend To Experience



Those with hair loss problem
Those who want to see black hair growth
Those who want to see hair growth
Hair Loss Doesn't have To Be Difficult...
Hear how other customer ease scalp problems with Two Herbs Herbal Tonic
I have been using the herbal daily, i have noticed reduced hair loss.




Jan
Been battling hair loss since my last year and this is the herbal tonic that I found that worked. I only apply once a day and have seen significant result.

Nicole
My hair loss has stopped finally, I've seen more baby hair growth at the front as well. The natural ingredients are what made me try the herbal tonic.


PeiLing
I saw on Facebook it answered the problems I am having which is hair loss and after using, I noticed that it also help hair growth. I like the fact that it acts as a natural gel after the tonic dry up.

Mark
Why Your Tonic is
"Not Working"
Because there is no other herbal tonic like Two Herbs Herbal Tonic
The only tonic in the market with the highest concentration of herbs

The only tonic in the market that does not contain water

Only high alcohol level of liquor use

More then 10 herbs use
Tonic AND Treatment
Best of Both World

For years, scientist's research and studies have shown that having a dirty and clogged pores in the scalp when applying hair tonic has been the main reason
that tonic has not been effective.

This makes perfect sense as clogged, dirty pores will not be able to absorb tonic into the follicles, causing its application to be ineffective.

1. Two Herbs Herbal Treatment will cleanse the scalp.


2. Nutrients are easily absorbed into follicles after pores are properly cleansed

3. Daily tonic application strengthen existing hair and aids new hair growth

4. Tonic + Treatment = New Hair Growth and Reduced Hair Loss


Real, Verified Results: See What People Are Saying About Why They Love Two Herbs Herbal Tonic
I love the herbal smell every time I use it, the hair feel like a natural gel after applying it

MICHAEL
The herbal tonic really works, I have seen lesser hair fall after applying at night everyday.
FIONA LIM
The herbal tonic stop my hair loss problem, i even see baby hair growing out.

TIM
Still Deciding?
Read The Top Concern Customer Had Asked